Sticker – Achtung Breitband! Vernetzungsgefahr!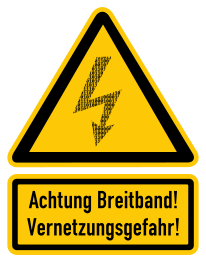 Hier die Original Vektordateien für den "Achtung Breitband! Vernetzungsgefahr!" Sticker. Als Font wurde Bahnschrift genutzt. Das Design ist unter der CC0 (Public Domain, No Rights Reserved) freigegeben und darf daher ohne Einschränkungen modifiziert, reproduziert und verbreitet werden. Wo möglich, verlinkt doch bitte hier her und lasst es mich wissen, wenn Ihr eine neue Version erstellt habt – dann kann ich diese ebenfalls hier verlinken. Aber jetzt: Viel Spaß damit!
Achtung Breitband! Sticker Download

To the extent possible under law, the person who associated CC0 with this work has waived all copyright and related or neighboring rights to this work.